Download the EyesHaveIt Mobile App
The Eyes Have It (EyesHaveIt) app is designed to teach medical and optometric students, and to assist physicians, optometrists, ophthalmic technicians, nurses and other health care providers in diagnosing and managing eye care problems. 

Written by respected University of Michigan ophthalmologist Jonathan D. Trobe, MD, the text contains hyperlinks to supplemental images, narrated animations, and videos that illustrate the clinical and teaching points. A picture-based multiple-choice quiz allows users to assess their knowledge.
With more than 130 eye conditions, 410 images, more than 40 narrated animations and patient videos, 6 screening examination videos and an eye anatomy review section, this pocket resource can be your go-to source for eye information!
A quiz of multiple-choice questions allows users to test themselves on their knowledge of eye conditions and their management. The quiz can also be used by instructors to assess the proficiency of their trainees. 
How the App Works
Features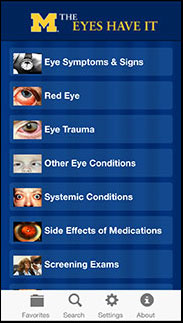 The app
The app covers 134 eye conditions and contains 410 images, more than 40 narrated animations and videos, 6 screening exams and an eye anatomy review section.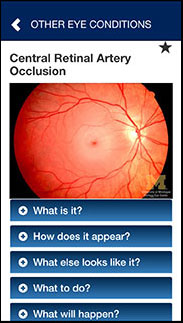 Eye Conditions
Learn about eye diseases & conditions through concise bulleted text that addresses What is it? How does it appear? What else looks like it? What to do? and What will happen?
View supplemental images with highlighting arrows, narrated animations, and videos; Develop a differential diagnosis using the links to candidate conditions; Find out what happens if you correctly or incorrectly diagnose or manage a condition
Screening Exams
Watch videos to learn how to conduct the common screening eye exams and interpret what you find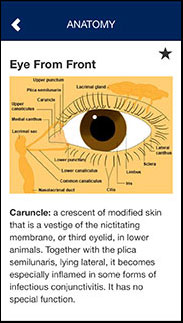 Anatomy
Discover the structures of the eye and visual pathway through pop-up cross sectional drawings and ophthalmoscopic images
Search
Search title and text to find a feature of interest to you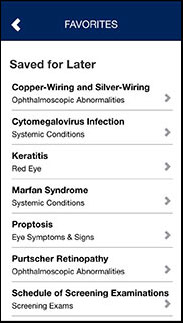 Favorite
'Favorite' a condition to get back to it easily
Questions?
Contact us at: tehiappsupport@umich.edu